For a safer and cost-effective alternative to glasses, Acrylic sign boards are introductive withholding features of a glossy finish, lightweight, and easy to install. Acrylic signage is ideal for drawing attention to customers to a business or its products through advertisements and marketing.
What is Acrylic?
Acrylic is the most popular transparent plastic material made with any kind of plastic sheet which contains acrylic acid, with the properties of excellent stiffness and strength.
Acrylic has different trade names such as Perspex, Plexiglas, and PMMA(Polymethyl methacrylate). Acrylic is modern era and generally used in various applications with its typical advantage of transparent and effective resistance of certain variants such as lenses, acrylic nails, paint, security barriers, medical devices, LCD screens, and furniture.
The Significance Of An Acrylic Sign Board In Your Business
Various types of signboards attract various types of individuals, depending on their requirements and interests. Acrylic-led signboards provide your signs or board with a bright factor, which boosts and upgrades your business view.
For most industries, establishing company signage or signboard has been essential. People will know they've arrived at the proper location if they see a business sign. More importantly, if the sign maker prioritizes quality of production, business signage can give your company a remarkable first impression. Acrylic sign boards are used for company logos, highly glossed posters to display the company's products and materials, and also used for promotional sale signs, direction signs, and hanging signs.
 Acrylic signboards are high resistance, waterproof that's the reason why it's so important to businesses as a water-resistant sign material. That is why the Acrylic Sign Board is the greatest option in signage today. Acrylic signboards are also weatherproof and can be used for outdoor signage since they contain acrylic, which does not rust or oxidize. Acrylic signs are chemical and water-resistant so that the signboards are protected from prolonged rains and they can stand over ultraviolet light with its optical conditions.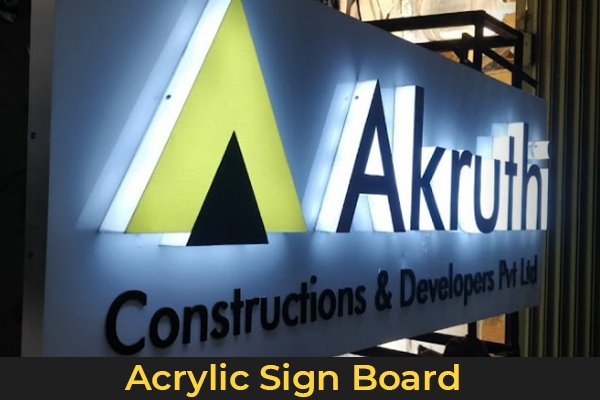 Advantages of Acrylic signboards:
Lightweight
Acrylic board furniture is 50% lighter than glass and is much easier to handle. It's lightweight, so it's simple to travel and set up. If dropped accidentally, it's less likely to break. These can also be applied as acrylic skylights, which provide more light while reducing the strain on the home's frame.
Durable
Acrylic is an excellent alternative for any company that wants long-term durability at a low cost. It has high resistance, is waterproof, weatherproof so it can be used indoors and outdoor.
Nothing compares to the durability of an acrylic sign. And you won't have to worry about your acrylic sign fading.
Easily shaped and fabricated
Acrylic provides a wide range of customization options, making it suitable for any application. Large graphics printed on acrylic signs are attached to walls are frequently used by businesses such as clothing stores, boutiques, restaurants, and lifestyle businesses to create the atmosphere. which have an instant impression that an acrylic sign captures will be recognized. They're bold and professional-looking, with plenty of creative space and a smooth surface. Further, you can choose from a variety of thicknesses and sizes to design something that satisfies your specific requirements.
Transparent Appearance
The ability of an acrylic sign to be transparent is one of its best qualities. The negative available space by this sign allows you to create a special appearance. It is useful for airplane windows, skylights, greenhouses, and store window frames because of this characteristic. Acrylic coatings are resistant to UV light, which is why some manufacturers use them to protect external windows, motorbike shields, and signage.
Budget-Friendly
As a business owner, you're constantly looking for new ways to draw attention to yourself and your great service. With so many options, it's easy to remain overwhelmed by the possibility of making such a large investment. Fortunately, trying to draw attention with print advertising is not costly. Acrylic signs are economical to produce, so they can go within your budget. They're also long-lasting, so you won't have to replace them constantly. It's a cost-effective approach that will save you money over the years ahead. To Custom Your Acrylic signboard, Here we are to Guide your signboard for business, with our best manufacturers, high-quality Led acrylic boards, and within the best price for your Business.