Are you going to advertise your company beyond business cards and pamphlets? If this is the case, consider outdoor sign boards.
Here we are going to discuss different types of sign boards and their role in business.
Signage is important for your business since it symbolizes your brand, aids in product marketing, and communicates with customers. There are different types of signs, each one is superior at achieving specific objectives. That's why it's crucial to be well-informed before selecting the one.
Having different kinds of signs is a nifty way to convey information and attract customers without using a lot of words. Investing in company signs is a big decision. However, this fantastic advertising and marketing tool will only be effective if people can see it and understand what you're saying.
This article will help you understand the different types of sign boards and their uses.
– A Frame Signs:
A-Frame signs which are also called sidewalk signs are probably among the most simple signs just a printed paper or flex mounted on a small inverted V-shaped frame. These are among the cheapest signboards and are appropriate for small store outlets. However, these are mostly only effective in areas where there is not much crowd since these are small in size and will be blocked in high-traffic density areas.
These types of signboards can be used to display information like business hours, promotions, and instructions. A-frame signage is commonly used for menu signs in restaurants.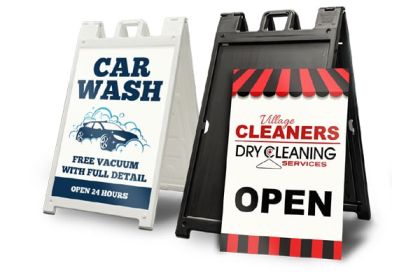 – Banners:
Banners are among the most versatile advertising option and can be used both for indoor as well as outdoor advertising. They are relatively inexpensive to produce and can be made almost everywhere since they are not very technically difficult. Anyone with a sufficient-sized printer can create a banner.
They are also a highly customizable type of sign board and can display a multitude of fonts and graphics. However, they are not a long-term solution and not very attractive to look at after a few days of putting them on, especially since they are not very visible in the dark.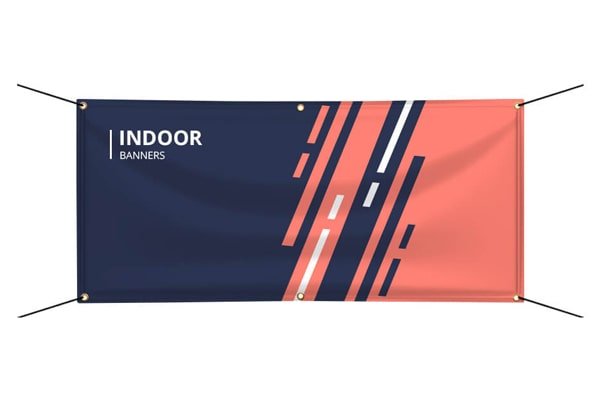 – Pylon Signs / Monument Signs
Have pylon signs are freestanding signs that are buried in the ground and are normally placed near the street, away from you ever passed by a pole with a brand logo on it while walking or driving? We've all seen something similar at some point. Those signs are called pylon signs.
ur building. The most important advantage of this business signage is that visitors looking for your location will be able to find you and visit you effortlessly.
Monument signs are similar to pylon signs, but they are not as tall. A monument sign is typically no more than five feet tall. The purpose of this type of sign is to make your message visible at eye level.
– Storefront Signage
It is often the first thing a potential customer notices about your business, so it's extremely crucial that it makes a good first impression. This type of sign board is called storefront signage.
An effective storefront sign will inform your customers of the name of your business as well as what you do.
– Vehicle Graphics
Talk about mobility. Vehicle graphic signs are a great method to get away from your business's site while still advertising and marketing your brand. Vehicles with your company's name, logo, and other information printed on them are the perfect portable type of signage for your business.
It's the same as turning your car or any other vehicle into a moving billboard promoting your company. You've probably seen advertisements on trains, buses, or private vehicles. That's exactly what we're talking about.
When compared to other forms of advertising, mobile advertising is the most cost-effective. Your brand's name and other messages will travel with the vehicle wherever it goes.
– Window Graphics
Window graphics are typically made of vinyl or perforated vinyl with images printed on it, and this type of signage is ideal for saving space in your business. It makes the most of the empty window space on the side of your building. You can have a practical way of displaying your brand's logo with these types of signs.
– Floor Graphics
When floor graphics are used to direct someone to a specific location in your store, they serve as helpful instructional signage.
These simple-to-design and simple-to-sign types of sign boards are incredibly cost-effective and allow for a lot of customization. You can keep updating these signs and putting new ones up as needed, depending on your needs.
– Wall Signs
Wall-mounted signs, as the name implies, are signs that are mounted directly on a wall. It can be positioned inside or outside of your company. They are available in a variety of sizes and can help you save a lot of room.
These signs can be customized depending on the message you want to send and the scope of the business.
Advantages of Signage Boards:
It helps one's target customers to locate the store or business place
It gives you information without the need of searching for it.
It supports one's target clients in finding the store or business location.
One of the quickest methods of advertising
It grabs the customer's attention
Cost-Effective
Check out this blog What is Digital Vinyl Printing? How does it Help in Business?